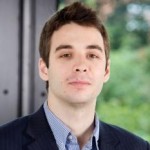 Vlad Popescu is an Aerospace Engineering Ph.D student in the Air Transportation Lab at Georgia Tech. Born on February 1st, 1986 in Bucharest, Romania, he received his Diplôme d'Ingénieur from the École Polytechnique in Palaiseau, France (2009) and previously attended the Lycée Louis le Grand in Paris (2004-2006). He is an alumnus of the Lycée Français Anna de Noailles in Bucharest where he received his Baccalauréat Scientifique (2004).
Working under the advisement of Drs. Clarke and Feron, he is currently studying novel concepts for air traffic control and NextGen en-route traffic flow management. Focused on the field of air transportation, his interests further span to controls and dynamical systems, human cognition, and game theory. Vlad is also involved with the Cognitive Engineering Center, where he is advised by Dr. Karen Feigh.
Vlad's hobbies include traveling, art, and sports such as skiing, swimming, tennis and soccer.